Here are the highlights from the November 26th CAS Brown Bag Lunch.
Henry Ahn presented two main websites that CAS Members can take advantage of for various benefits and discounts.
On this site, CAS members can have access these three benefits/discounts:
California Casualty Car and Home Insurance
Provident Credit Union Mortgage and Credit Cards
Car Rental Discounts

For Car Rentals, you can either take advantage of a $33 flat discount per day rate with Enterprise or use the discount codes provided for other car rental companies. It is recommended you research the price without discounts to calculate which option is best.
Other Discounts/programs on this website are not be available to CAS members.
To access this site, enter your Full First and Last Name in the Username field and your CTA computer password as the password. Once logged in, it will log you in as a "Guest" which will provide you access to the benefits listed above, but not for other areas of the site reserved for CTA Members.
Additional Discounts are offered to CAS on this website by just logging in with your CTA email address.
Discounts include hotels, movies, Disneyland, shopping, dining, car service and more. These discounts can be accessed through its mobile app and/or by printing coupons.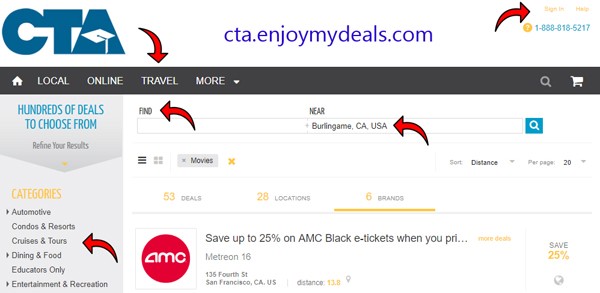 To register for this program, you will be required to setup your account.
Click "Sign In" and provide your CTA email address
Shop by Categories or Search by City
Book hotels by clicking on the Travel tab
At checkout, create a Password
If required, enter your 5-digit Payroll ID (for CTA Staff, your 5-digit Member ID is your Payroll ID, and add zeros in front if your ID is less than 5 digits which is found on your paystub)
To redeem savings:
Sign In at https://cta.enjoymydeals.com to search for deals near you by changing your location, and choose your preferred coupon and click on the link to redeem. By default, all CTA Staff addresses have been preset to the CTA Headquarters Office in Burlingame, CA.
In-store – After finding the merchant offer you'd like to redeem, simply follow the specific redemption instructions provided on the savings site. Print out the coupon provided and watch the savings add up! Or, save using the My Deals mobile app by loading the discount coupon you'd like to use and showing your phone at check-out.
By phone- Many discount offers you'll find on our website are redeemable by phone. Simply call (888) 818-5217.
CTA Access to Savings Smartphone App: My Deals Mobile
Download for iPhone
Download for Android