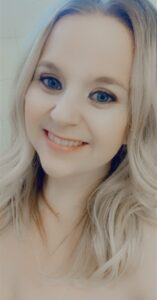 Hello CAS Brothers and Sisters, my name is Sara Morell and I am currently a Field Services Specialist working in the Santa Maria RRC. I have worked for CTA since June 2017, minus a short leave to birth my first and only child.
I was new to the union environment when I came to CTA and a member of CAS. I remember what it felt like to be new in this environment, and it was daunting at first. Once I got my feet wet, which started with being elected to go to the National Staff Organization Rep Assembly, I was hooked on doing more for my union. I know we have heard this a lot lately, but WE ARE stronger together. If there was nothing else I could say, that would still be my words to you. When I was asked to serve as Interim Secretary, I knew I couldn't waste this opportunity. I am grateful to serve in whatever capacity I can be beneficial to.
When I am not at work or currently engaged in CAS activities, you can find me at Disneyland or in Hawaii! Or just playing around watching my sweet little one grow and amaze me every single day. I've been married to my husband Max for almost 4 years, and we share our sweet Evelyn Rose (1), as well as a French Bulldog named Sophia (5) and a Yellow Labrador named Charlotte (2).
Looking forward to meeting the rest of my fellow CAS members someday!